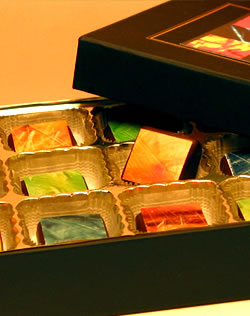 I think I'm in love with John Down's Christopher Norman Chocolates. Okay, so, last night, I got invited to this party in their space featuring Port Wine Truffles made with Napa Valey Dessert wine. (A portion of every sale went to charities handpicked by Auction Napa Valley.) No joke, I swear I ate at least 20 pieces of chocolate. I was gonna Twitter the whole night, but then I got whisked away to the back room where I met John Down. A mutual connection introduced us, and I got totally wrapped up in stories about his life, chocolate, his paintings and everything else. John was ridiculously sweet, warm, funny and open. I love chocolate. It's rare that I meet people who actually make it.
The party folks and attendees were great! I met this chick from Forbidden Kiss; I've gotta check that show out sometime. (If you live in New York, you should check it out, too!) Also, at the party I met this random lawyer dude who was waaaaay too cute, shy and funny. I gave him my card. Actually, all the guys I met told me chocolate makes them think of sex! That makes sense; the brown stuff is an aphrodisiac, and it's so precious that the Aztecs used to trade cacao seeds as money. Good times, good times.
More tomorrow. I got 3 hours of sleep Tuesday night and only a few hours more than that last night. In the meantime, for your reading pleasure, browse these about sex & chocolate from Amazon.com:
Photo credit: Image appears online at Christopher Norman Chocolates
——————–
UPDATE / NOTE: Big fat thanks & drippy kisses go out to the folks who forwarded me the New York Times article about Emily Gould and blogging. Yes, I'd already read it & loved it. And, yes, I'll write about it soon.