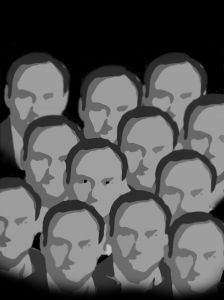 I've been summoned for jury duty. Typically, I was able to get out of it because I never lived and voted in the same place. I was an absentee ballot voter for AGES. Now that I live, work and vote in New York (and I have an NY driver's license), I've been summoned. There's wifi in the juror's holding room, hence I'm able to blog. But, needless to say, I'm pretty sure they don't want me to blog about any details of the case — that's if I'm selected. Right now, we're all just waiting.
Part of me wants to be selected because it seems like the right thing to do. I started out pre-law in college, and several of my friends are lawyers. I have a really strong sense of right and wrong, fair and unfair. I'm lovin' on the walls of justice. Plus, you know, I liked shows like Perry Mason and Cold Case. (Sidenote: I've named each of my fists — though, I've not selected "truth" and "justice." My right fist is "Jackie Chan" and the left is "Chris Tucker." But, I disgress.) That said, part of me really doesn't want to be selected for the jury. What if it's something really gruesome and horrible? I sooo don't wanna look at pictures of mutilated children or some random shit like that.  :(
In the end, I'm pretty sure everyone sitting in the room with me right now feels the same way. Some really wanna be picked, some really don't want to and most probably fall somewhere in the middle. How about you? Picture this: You open your mailbox and realize 're summoned for jury duty via that little red and white trifold paper. Do you: (A) scream "hell yeah" and get really excited about performing your civic duty or (B) scream "oh, fuck no!!" and try to get out of it?