I'm reading today's Asian Pop piece, Opening the box, by SF Gate columnist Jeff Yang. Great article, but I found part of it somewhat disturbing. It's not the writer, it's this chick Susan D he quoted. "I think people overthink and overanalyze the nature of romance." Okay, okay I agree. "I just think Asian men are beautiful." Sure, no prob; I'm right there with you sister. BUT, then Susan adds a warning to the folks who aren't actively seeking to date Asian men. Basically, she's like too bad, so sad for you because "That just means more men for me!" More for you, Susan? What a greedy little thing. I'm sure what she MEANT to say was, "That just means more men for me AND Funky Brown Chick." Good thing Susan lives 46 states away from New York City or else faces would be slapped for leaving me out like that. ;)
Other interesting stuff from the article? "[S]tatistics show that 'Asian man/black woman' is the least common of all interracial combinations, representing less than 0.01 percent of all marriages in the United States — a total of just 6,000 couples across the entire country." Change starts at home; I'm ready to be part of the solution.

I didn't make the clip. The music? Hot. Some of the guys selected for the video? Not so hot. So, I was kinda inspired to create my own (more diverse) homage to Asian American men.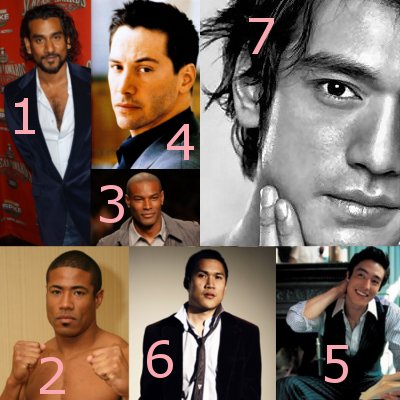 1. Sexy lips Naveen Andrews is the British Indian actor from Lost, 2. Retired NFL wide receiver Johnnie Morton shares African-American and Japanese heritage, 3. Supermodel Tyson Beckford is Chinese and Jamaican, 4. Keanu Reeves is the product of an English mother and American (Hawaiian) father of Chinese, Irish and Portuguese descent, 5. The American / South Korean actor, model, drop of deliciousness called Daniel Henney is too beautiful for words in this commercial with Gwyneth Paltrow ( … and he sings?!?!), 6. Filipino American actor Dante Basco shares my birthyear. Oh, if only we could share more intimate things … and, finally … Lucky #7. Takeshi Kaneshiro is Chinese and Japanese. He's also sexy and beautiful. By the way, I TOTALLY forgot to include Dustin Nguyen in the image collage above. :( Remember him from 21 Jumpstreet? Keep an eye out; he's been doing more film stuff lately.
—————————-
Related FBC post:
"Everyone ♥'s an Asian Boy"