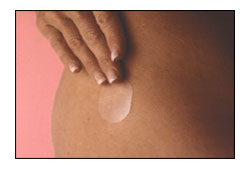 Time to hike up your skirts, ladies. Here comes Intrinsa! The first sex-treatment of its kind, Intrinsa is a drug that increases women's libidos. BBC News, The Telegraph, Nerve Scanner and a bunch of other folks are talking about it. So, yep, Intrinsa may be coming to a drugstore near you, but what the hell is it? Basically, it's a sex-treatment patch that you stick to your skin. You need a prescription to get the patch, and you have to change it twice a week. Assuming that you do that, your sex drive is supposed to increase. And, how exactly does Intrinsa make that happen? Well, it slowly releases testosterone directly into your blood stream. "Excuse me, Funky Brown Chick," you might interrupt me and ask, "did you say testosterone?" Yep. Testosterone: the hormone that makes people grow facial hair and develop deep voices. Folks, you are hereby forewarned. Pretty soon, hairy women with mustaches may run through the streets of New York City screaming "FUCK ME NOW!!!" while chasing anything and everything that moves.
At any rate, it may be worth it to mention that, although Intrinsa was all over British media yesterday, it would be somewhat of a misnomer to call it a new drug. Intrinsa has been hanging around, albeit slightly under the radar, for a couple of years now. In 2004, BusinessWeek asked, Can Intrinsa Be a Viagra for Women? At that time, the answer was a resounding hell no. The FDA Intrinsa Advisory Committee blocked the drug's release due to associated breast cancer risks discovered during clinical trials. (Wanna know more? Click here to listen to the archived segment on NPR.)
But, that was then and this is now. And, Intrinsa is back. One patch at time, it's set to boost the sex drives of the women who need it (and can afford it). It's already on the market in Germany and France. It hits the UK this week. And, one can only assume that it will eventually be available in the US as well. So, while we may soon be able to buy the drug, the question is: should we? Absolutely not. It's unnecessary. I'm not a fan of big pharma, and I think sex drive is predominantly psychologically, not physically, determined. But, perhaps most importantly, I'm not convinced that women have lower sex drives than men anyway. That is, after all, the purpose of the drug. To increase women's sex drive. Hmmm … So, now you've heard my humble & completely non-medical opinion. It's your turn. Please feel free to use the "comments" link below to share your opinion on women's sex drives compared to men's, sex drugs / treatment or any other topic related to sex and medicine.