Yesterday, someone arrived at my blog by googling: how to seduce your grandma. Wanna see? Click here to check out a cropped screen shot from my sitemeter. Wow. How. To. Seduce. Your. Grandma. I'm actually kind of disturbed by that. But, don't get me wrong. I think it's FANTABULOUS that more and more younger men are getting all hot and bothered by the older women over 50. But, what exactly *is* it with older women these days? Seriously. If MILFs were all the rage last year, 2007 seems to be shaping up to be the year of the GILFs (grandmother I'd like to…)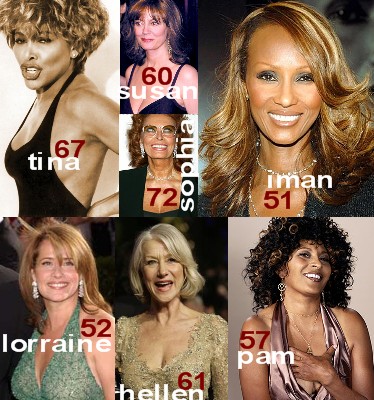 I hear people Magazine did a new "beautiful at every age" gallery of older women. (Hey, hasn't Essence Magazine already been doing that on an annual basis for, like, um, *years*????) But, anyway, I guess people … all people, not just the magazine … are finally starting to realize that women over 50 are H-O-T. Watch out young cubs; urban cougars are on the prowl! So, for those of you young pups out there looking to score some grandma action, here are 5 tips:
1. Be there for her when she screams, "I've fallen, and I can't get up." Women of all ages love Knights in Shining Amour who will rescue them in their time of need.
2. Get ready to roll with discounts. If you're used to paying for dinner, drinks *and* the movie, I have three words for you, young buck: Senior. Citizens. Discount.
3. Kick back and let your sugarmama woo you. With the retirement checks rolling in, you could be set to become the next Anna Nicole Smith — of course, that is, *without* the tragic death and the "Who's My Babydaddy?" drama.
4. Buy plenty of condoms. Don't be fooled. Sure, dating a GILF means that you can say goodbye to your 'omg, what if she gets preggers?' days. But, you still need to keep it safe. Older woman have high sex drives. And, who knows, your GILF could have a raging case of herpes. You don't want that shit do you?
5. Be prepared to get schooled. Think you got game? That's only because you've been playing around with spry little chicks. You're gonna be running with the big dogs now. And, you'll be waaay out of your league young cub. But, fret not. Just sit back. Relax. And, get ready to learn a few tricks of the trade that you never even knew existed.
Maaaaan, I wanna be a GILF when I grow up. How about you? Ladies, do you wanna be GILFs? Fellas, are you crushing on any of the GILFs in the image above?
————–
Related FBC posts.
Cougars and Cubs: Older Women, Younger Men
Urban Cougars and Their Young Boytoys