If you missed the series premiere of NBC's Age of Love a couple of days ago, here's the scoop: basically, it's a new dating show starring sexy 30-something Aussie tennis guru, Mark Philippoussis. The twist? A bunch of young 20-something "kittens" battle older 40-something "cougars" to win the guy. (Yes, the show's themes are every bit as predictable as you'd imagine they would be.) Although I've not been convinced that it's worth watching an entire season of Age of Love, the show does make me think about my own dating life.
Maybe it's because one of the guys who contacted me via Nerve Personals says he considered sending me an email referencing my "affinity for sex scenes featuring 'older women' with 'younger men'". Maybe it's because I enjoy the movie Notes on a Scandal — a fictitious story about a cougar teacher who carnally "schools" one of her male cub students — just a tad too much. Or, of course, maybe it's because I'm an obsessive person who spends way too much time pondering the whats, whys, and whos of the dating world. In any case, I notice that I've been very attracted to younger men lately.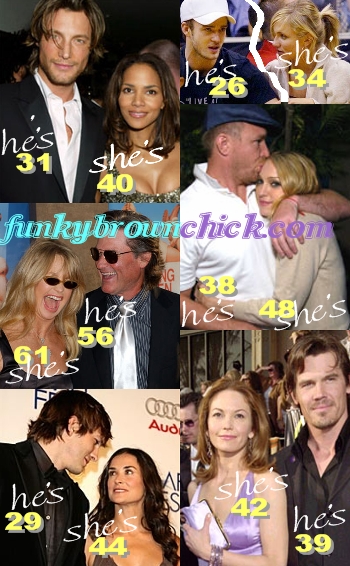 Hmmm … obviously, I'm not alone on this one. In recent years — from CBS to ABC, from Oprah to MSNBC and iVillage — everyone has been talking about younger men / older women pairings. Good Housekeeping Magazine featured a piece on the trend. And, over at Nerve, writers like Douglas Rushkoff proclaim "in 2033, age 70 is the new 30". (Psst! Today on Nerve, I wrote about a younger man who recently approached me.) Older urban cougars. Younger men cubs. Hey, with the photo above, I know that I'm in good company. How about you? Whether you're male or female, tell me: Do you tend to date older or younger or exactly within your age range?