Seems odd to hold a football game at a crime scene. How easily we look the other way. By now you've heard 25-year-old Kansas City Chiefs starting linebacker Jovan Belcher murdered his girlfriend Kasandra Perkins by repeatedly shooting her in front her mother and the couple's tiny 3-month-old daughter Zoe. He then drove to Arrowhead Stadium and slammed a bullet into his head in front of coach Romeo Crennel and general manager Scott Pioli. The next day? The Kansas City Chiefs hosted a home game at the crime scene, Arrowhead Stadium. I don't write about graphic violence because I can't stomach it. Instead, let's talk about pretty things.
Bleacher Report sportswriter Todd Boldizsar has a droolworthy list of The 25 Biggest Pretty Boys in Sports: "Beckham is an obvious choice, having participated in more photo shoots than he has games on a soccer field." To the list I would add a new-to-American-audiences dude spotted on pitches more often than pictures: Robin van Persie. (Ik heb niet op hem gekozen omdat hij Nederlands is hoor!)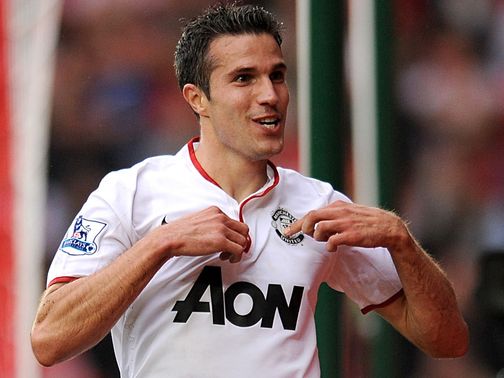 NAME: Robin van Persie
NATIONALITY: Dutch
CURRENT CLUB: Manchester United
POSITION: Striker
NUMBER: 20
What happens when pretty boys do ugly things? I'm a Manchester United supporter. Yet, in writing about van Persie, I'd be remiss if I didn't explain a fact well known to soccer lovers. Police held him for rape. He says it was consensual hotel sex. The Miss Nigeria Holland winner says he assaulted her.
Check out Ray LeMoine's sociology of sport VICE piece Athletes Raping Everybody Out Here. "[A]thletes are more likely to commit sex crimes than average citizens but less likely to be prosecuted or convicted, which should be pretty obvious to anyone who's been around any group of jocks."
I'm not sure if that's fair. Do athlete actually commit more crimes or do their crimes grab more headlines because they're famous? Van Persie was eventually released without charge, though the glaring dent in his halo remains. That's the thing about glares, they can be blinding. When he played for Arsenal, Manchester United supporters didn't care if he was guilty or not when we called him Robin van Rapist. A cool $38 million transfer and a new jersey later, we wondered: What is love if not sheer adoration of our amazing goal-scorer, Robin van Persie. Is he an innocent, or we should feel guilty?