Check out Twanna's curated list of holidays, awareness campaigns, and cultural celebrations taking place this month. Stay timely and learn more about the wide variety of June days to remember.
Immigrant Heritage Month, June 1 – 30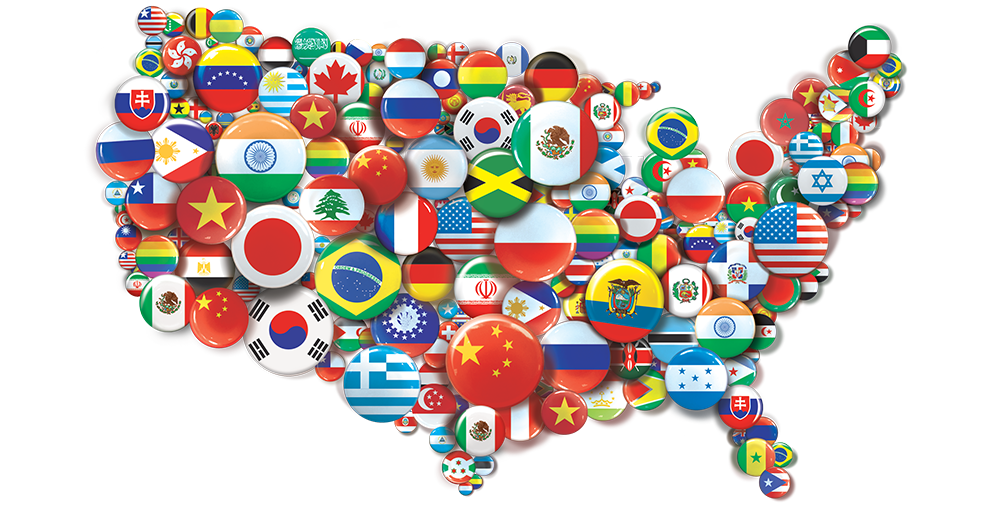 What truly makes America great? With more than 327 million people living in the country, the answer has to be diversity! This June, fight nationalist rhetoric. Stand with immigrants and honor their many contributions to American society. During this month long recognition, you can find all kinds of events nationwide that celebrate immigrant heritage. #CelebrateImmigrants
LGBTQIA Pride Month, June 1 – 30
Happy Pride Month, lovers! During this month, we pay tribute to — and acknowledge the diversity of — the achievements of the LGBTQIA community. We also acknowledge the ongoing struggle to ensure basic civil and human rights for all LGBTQIA people. Events will be held in the U.S. and throughout the world – check out what's going on in your area.

Men's Health Month, June 1 – 30

Men's Health Week takes place June 10-16. Sponsored by Men's Health Network, Men's Health Month seeks to increase awareness of health issues that affect those who identify as men and boys. Men are also encouraged to take advantage of the many screenings and health fairs taking place in June. Friday, June 14th is "Wear Blue Friday." On this day, everyone is encouraged to wear blue to show their support for men's health.

National Adult Sex Ed Month, June 1 – 30
Sex ed shouldn't end once you leave school. Information on positive sexual health is always changing, so sex ed should be a lifetime thing! Use this month to learn more about the human body, STIs, birth control, and pleasure. Here are two sex-positive resources to get you started.

Saturday, June 1

Global Day of Parents
Established in 2012 by the UN General Assembly, this day serves to honor parents worldwide and recognize their role in successful child rearing. The organization also hopes that this day is used as a springboard in government's efforts to develop family-friendly policies that align with the 2030 Agenda for Sustainable Development.

Sunday, June 5
National Cancer Survivors Day
According to the National Cancer Survivors Day Foundation, there are more than 32 million cancer survivors worldwide. Held annually on the 1st Sunday in June, the goal of National Cancer Survivors Day is to not only celebrate cancer survivors, but to provide support to survivors' loved ones and inspiration for those who may currently be living with the disease. Another goal of this day is to raise awareness of the many physical, mental, and emotional hardships that face cancer survivors. Learn more about the day, the foundation, and action steps you can take here.
"Tank Man" Confronts Tiananmen Square Convoy
In 1989, six weeks of pro-democracy protests in Beijing's Tiananmen Square led to the government calling martial law. The uprising was bloody — over 10,000 people were killed during these protests. Toward the end of this period, one act of bravery was captured on video: a protestor holding some bags, stands in front of several tanks, attempting to block them. The amazing, iconic images were shown worldwide; however, the identity and whereabouts of "Tank Man" are still unknown. The power of photography and images, particularly in advocacy efforts, cannot be discounted.

First CDC Report on HIV/AIDS (1981)
This date marks the first published scientific report about the "mysterious" disease now known as AIDS. At the time, the CDC (Centers for Disease Control) noted that several otherwise healthy young gay men had depressed immune systems, leading to unusual infections. This report is widely considered to have marked the beginning of the AIDS epidemic in America. However, the first actual American case of HIV was discovered in a young Black teenager named Robert Rayford…12 years before the CDC raised the alarm. Learn more about the literal whitewashing of American HIV/AIDS history in this article.

Death of Mary Ann Shadd Cary (1893)
Abolitionist and newspaper editor Mary Ann Shadd Cary came from a family of trailblazers. Her father was a conductor on the Underground Railroad, and — having moved the family to Canada in 1853 — was one of the first Black man to be elected to political office there. Mary Ann followed in his trailblazing footsteps. She established schools for black children in both the U.S. and Canada. She also founded the anti-slavery newspaper The Provincial Freeman, in the process becoming the first Black woman newspaper editor in North America. Later in life, she went attended Harvard University, earning her law degree at the age of 60. She was only the second Black woman in the country to earn a law degree.

Monday, June 6

Birth of Sarah Parker Remond (1826)
Born into an affluent family, African-American human rights advocate and lecturer Sarah Parker Remond was a speaking phenom, making her first anti-slavery speech at just 16 years old. Her talent and advocacy efforts eventually took her to Europe. She would never return to America. In England, she gave many lectures and worked with the English on their suffragette movement. She eventually settled in Italy, where she lived for the rest of her life. She graduated from a prestigious medical school and worked as a doctor. She died December 13, 1894. Visit the tribute to her in Massachusetts.
Tuesday, June 7
Griswold v. Connecticut Supreme Court decision (1965)
Prior to this case, giving contraceptives to anyone – even married couples – was illegal in the state of Connecticut. In Griswold v. Connecticut, the defendants argued that married couples had the right to receive information on birth control, the right to receive birth control, and, ultimately, the right to privacy. The Supreme Court agreed. They ruled 7-2 to strike down the state's laws banning the distribution of birth control and contraceptive information to married couples.

Wednesday, June 8
Best Friends Day
While the origins of this day are unclear, its purpose is not. This is a day to recognize the role and importance of friendships in our lives! Let your best friends know just how much their friendship means to you. Here's a few ideas on how to celebrate this fun holiday.

Saturday, June 11

Death of Harriet Forten Purvis (1875)
Born in 1810 into a wealthy, well-known family of African American abolitionists, Harriett Forten Purvis eventually became a prominent abolitionist, lecturer, and civil rights advocate herself. She was one of several founders of the Philadelphia Female Anti-Slavery Society. With husband Robert Purvis, she ran a stop on the Underground Railroad. She also helped organize a boycott of items produced with slave labor. Her advocacy work meant that she often encountered other advocates of the era, including Lucretia Mott and Sarah Parker Remond (see June 6).

U.S. State Dept permits transgender persons to change gender on passport without surgery (2010)
The ability to live freely — regardless of how an individual chooses to identify — is a human right. And the ability to legally present that identification on legal documents is extremely important. For years, in order to change the gender designation on a U.S. passport, an individual had to present evidence of undergoing sex reassignment surgery. In 2010, the State Department eventually changed this rule. The National Center for Transgender Rights notes that currently, anyone with a passport can have that passport reflect their defined gender designation. But, "a physician [must] confirm that they have had appropriate clinical treatment for gender transition." However, this right, as all transgender rights right now, may be under threat. Learn more about your passport rights.

Sunday, June 12

Loving Day
Billed as "a project that connects the multicultural community," Loving Day was established to recognize the day the U.S. legalized interracial marriage (via the Loving v. Virginia decision 1967). Celebrations are held every year to mark this anniversary. The volunteers over at lovingday.org lead the celebrations; visit the site to find an event in your community or host your own.

Friday, June 17

Susan B. Anthony is tried for voting illegally.
Before women could legally vote, women's rights activist Susan B. Anthony engaged in a little civil disobedience by voting in the 1872 presidential election. She was eventually arrested, tried, and found guilty for doing so. The women's suffrage movement kept gaining momentum, however, and was eventually written into law via the 19th Amendment in 1920.

Sunday, June 19

Father's Day
Let's give it up for the dads and father figures in our lives! If you've got a great dad, show him some appreciation on this day. However, we recognize that many people are dealing with the loss of a loved one or may have difficult relationships with their fathers. If this holiday is difficult for you, here's a few ideas on how to cope.
Juneteenth
The Emancipation Proclamation (1863) officially ended slavery for more than three million enslaved people. However, this news did not reach enslaved people in Texas. On June 19th, 1865 Union soldiers arrived in Galveston, exclaiming that that the Civil War had ended, and enslaved people were free. But enslaved persons were only technically free, as many slaveowners weren't willing to let them leave. In many cases, slavery in Texas carried on much as it did before – with deadly consequences for those daring to begin a life of freedom. People celebrated June 19th anyway, beginning what is now a yearly commemoration of freedom and resistance.

Thursday, June 23

Birth of researcher Alfred C. Kinsey (1894)
If you've ever watched Masters of Sex, you've learned a little about the life of Dr. Alfred C. Kinsey. Kinsey had been a lecturer on marriage and family for nearly a decade by the time he established the Institute for Sex Research (ISR) on the Indiana University campus in 1947. It's not unusual for critics to bring up his "controversial" personal life; however, he was a serious researcher. Dr. Kinsey led the ISR from its beginnings until his death in 1956. During his leadership, the Kinsey Reports became a talking point in American culture.
Title IX of the education amendments of 1972
By the early 1970s, several laws had been enacted to protect against discrimination in employment and educational institutions. These laws prohibited discrimination due to race, color, or national origin. However, none of these laws addressed discrimination due to sex or gender identity. Women's rights advocates continually advocated for these classes to be protected as well. One of the results of this advocacy was the Title IX civil rights law, which was designed to "prohibit discrimination due to sex in all federally funded education programs."

Sunday, June 26

7th Anniversary of Supreme Court marriage equality ruling.
When the Supreme Court ruled in favor of the plaintiffs in Obergfell v. Hodges (2015), it meant that same-sex marriage became legal in all 50 states. (Interestingly, this case was settled almost 50 years to the day of the Stonewall Inn riots – see below). Until that point, individual states had their own guidelines on who could get married there, and how they would recognize same-sex marriages. While Obergfell changed federal laws on marriage, discrimination against same-sex couples by both the government and the private sector is still legal in many cases.

Tuesday, June 28

Anniversary of the Stonewall Inn Riots
On June 28th, 1969, patrons of the LGBT-friendly Stonewall Inn were enjoying a regular night out when police harassed them. This had happened several times before; however, this time, bar patrons fought back. The riot that ensued jumpstarted the modern gay rights movement in America. (By the way, the Stonewall Inn is still open if you want to check out this National Historic Landmark.)

Wednesday, June 29

Birth of Henry Gerber (1892)
German immigrant Henry Gerber is credited with founding the first U.S. gay rights organization. At 25, he was briefly committed to a psychiatric hospital for being gay. This did not stop his advocacy for the LGBTQIA community, however. After serving in the Army during WWI, he and some friends established The Society for Human Rights, dedicated to protecting gay rights. The group eventually disbanded, but Gerber continued communicating with and advocating for the LGBTQIA community. The Chicago LGBT Hall of Fame notes that he died in 1972, having lived to see the emergence of the modern-day gay rights movement.

Thursday, June 30

Initial Establishment of NOW – the National Organization for Women (1966)
Inspired by the lack of enforcement of Title VII, activists including Shirley Chisolm and Betty Friedan created the National Organization for Women. NOW is dedicated to protecting the social, political, and economic rights of women and girls. The organization has been linked to several major advocacy efforts over the years, including ratifying the Equal Rights Amendment and nationalizing abortion rights.

Social Media Day
This day focuses on the positive aspects of social media – how these websites and applications allow people from all over the world to interact, develop relationships, and advocate. Created nine years ago by media and entertainment company Mashable, Social Media Day celebrations are held yearly in several cities throughout the country. #SMDay
---
Do you have a June day that is especially important to you? We can help you incorporate it into your content calendar. Give Twanna a shout.